Whilst it is hard to leave the beach, pool, sunbed or balcony behind and put on some clothes, you won't want to miss the wonderful things that are going on in the local area.
It's a little known area of Spain as far as Brits are concerned, but it shouldn't be as it's incredibly vibrant, steeped in history, with stunning landscapes, up-market and cosmopolitan towns and plenty to see and do, all year round.
Cartagena – 'Puerto de Culturas'
This amazing place is only 15 minutes drive from El Portús and offers a huge variety of experiences – historical, architectural, marine, festivals, dining, shopping, markets and more.
A walled city with its roots in Pre-Roman times, it's a major Spanish naval port and the home of the submarine.
Historical sites include Punic ramparts, built when Cartagena was created as Qart-Hardast by invaders (including Hannibal of Elephant/Alps fame) from what we now know as Tunisia, the impressive Roman Theatre and museum, recently restored Roman forum and temple remains at La Molinete, "Fuerte de Navidad" – Christmas Fort , ARQUA – the national museum of marine archeology, Torres Park with the Castillo de la Concepcion castle, fabulous views and panoramic lift, the Military Museum, a museum dedicated to the Spanish Civil War in the actual shelters used, and much, much more.
Culture Vultures will enjoy many music, film, art and dance events and festivals and visit the modern art museum MURAM, Teatro Circo and the state-of-the-art concert hall and conference centre, El Batel.
All in all, it's a wonderfully cosmopolitan place with super restaurants and great shopping.
…and it doesn't matter what time of year you visit El Portús, there's probably a festival going on…
Easter – Semana Santa (Holy Week) – parades, rich costumes, religious images, armed forces processions, floats…
July – La Mar de Músicas – music festival, with performances by internationally-known stars
September – Carthaginians and Romans (Cartagineses y Romanos) festival – Phoenicians, Greeks, Punics, Romans, Arabs and Byzantines all left their mark on Cartagena. Here's a spectacular 10 day-long celebration of that past that ends with an incredible parade with wave upon wave of march pasts of groups dressed in ancient costumes that would not be out of place in a Hollywood blockbuster with dancers, musicians, drummers and street performers. Stunning.
November – Jazz Festival – international names, concerts, live music in cafés and exhibitions
Elsewhere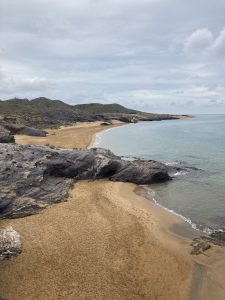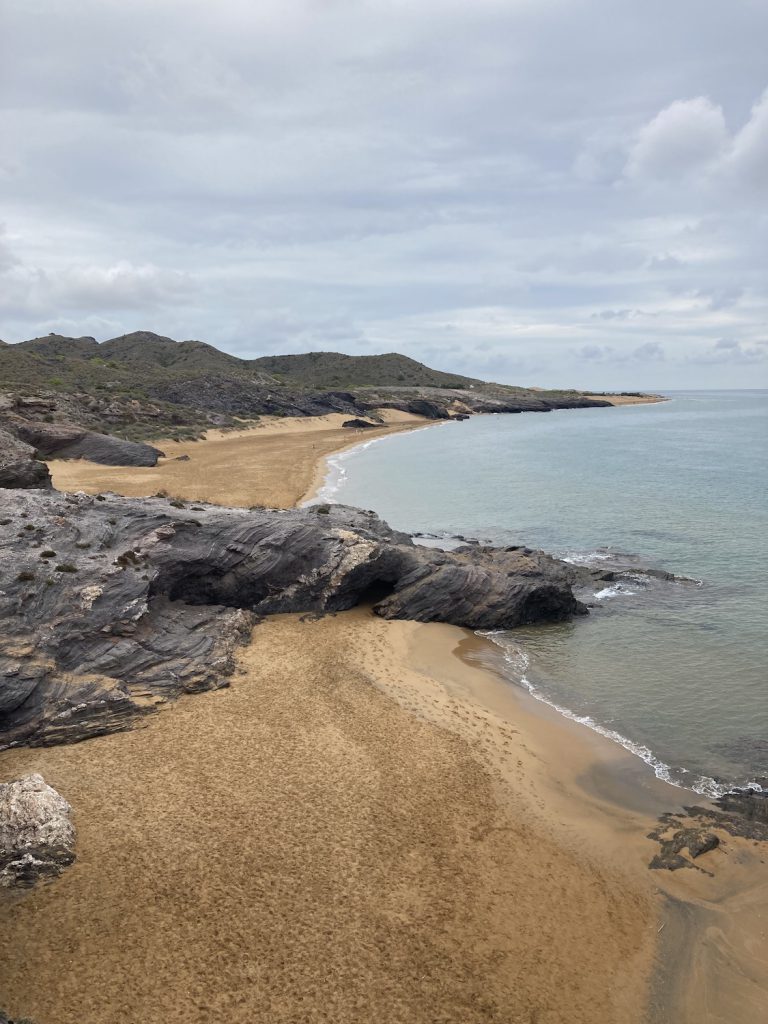 La Unión – silver mining village with visitor sites and more
Mar Menor – a salt water lagoon fringed by seaside towns, golf courses and entertainment
Calblanque national park (pictured) – a rugged nature reserve with on the coast with Naturist beaches.